I've been to my first SUP46 event last Thursday about Product Managers with Ricardo and Alycia, whom have both already written an article about it (you can check their blog posts here and here if you want) so I won't explain again what has already been said. First, I really enjoyed the conference because it gave me a new vision on the many forms that the entrepreneurial spirit can take, as intrapreneurship. In fact, being a Product Manager seems highly related to being an intrapreneur as they constantly need to be visionary, keep focus, lead their teams to ensure the development of their product. In this blog post I'd like to focus on why is it important to have intrapreneurs inside your company.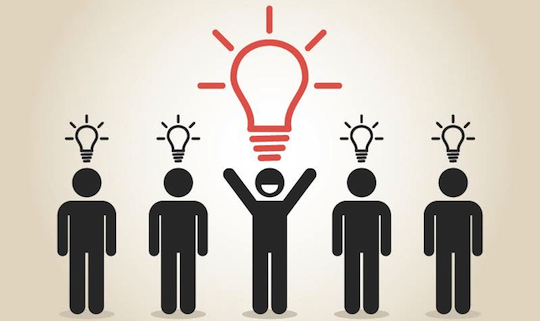 You can think of most companies as they can be reluctant to change, because they were set up to execute certain activities and are used to it. They often like to do it their way inside of their comfort zone, and at the contrary change appears as dangerous and uncertain. Thus, things tend to stay as they are, which can be a stumbling block to innovation. That's exactly why every company needs intrapreneurs to stay at the top and continue to be innovative. Those people are the ones who can disrupt a company in a good way in the sense that they value creativity, freedom, and they want to make a difference. In fact, most big companies have the potential, the technologies necessary to develop new products but they can lack the will to do it, and sometimes they don't even see the opportunity of developing a disruptive product because they may be too focused on something they already have. A story of such a successful seizure of an opportunity is Amazon Web Services. Most of you probably don't know this subsidiary of Amazon.com, Inc. but it was created by a man named Andy Jassy, whom has been designated as "Person of th
e Year" by Financial Times. He is totally an intrapreneur in my opinion and I invite you to learn more about him and AWS in this article which is very interesting to understand the birth of an idea and how opportunities can be seized. Roughly speaking, this man was the leader who's made Amazon able to invent a totally new service called cloud-computing, and which has made AWS the market leader on the topic. The way he did that is completely similar to an intrapreneurship project, especially thanks to Amazon's culture of innovation and agile infrastructure. Of course, it wasn't easy even if Amazon seems to be a good place to innovate, and it may be even more difficult to do in a lethargic company reluctant to new ideas. But you always need someone inventive, devoted, a leader to disrupt, to push you up and keep your company growing. This person is an intrapreneur.
Finally, I'd like to share five advices for both future intrapreneurs and entrepreneurs I've found in a web conference given by the French autodidact entrepreneur Jérôme Hoarau. I found his conference very interesting and inspiring, and as I suppose most of you don't speak French, I'll translate his main points:
Turn obstacles into challenges and learn from it
Build up archives of everything you've learnt from your mistakes
Focus on action and less on results to enjoy yourself and learn more
Try to be versatile
Draw your inspiration from better things instead of comparing
I'll probably make a more detailed article about being an autodidact entrepreneur because it is something that many entrepreneurs I've met have in common and you can always learn a lot from these people.
Have a nice weekend and see you next time! 🙂
Liked it? Why not to share then?