Open and User Innovation
I have already evoked this competition several times during the lectures so I thought it would be good to write something about it on the blog!
On the 17th of September, I participated in the Open Stochholm Hack hosted by Openlab, for the city of Stockholm. It was an innovation challenge that focused on finding ideas to make good use of the Stockholm's Open Data Portal. The Hackathon has been organized in close connection with the Open Stockholm Award 2016.
Background
The city of Stockholm has the ambition of becoming an example of smart city and has developed the 2040 Vision "Stockholm for all" where sustainability and inclusion would be driven by intelligent use of new technology. In order to reach this goal, Stockholm launched the Open Stockholm Award to invite innovators, engineers, entrepreneurs and students to contribute by developing new ideas that could "make Stockholm a better city for both inhabitants and visitors". The winners will be announced on February the 1st and will be awarded a 100 000 SEK price.
Two competitions have been organized within two themes. The first, "A Financially Sustainable Stockholm and a Climate-Smart Stockholm" has been held in spring and the second "A Cohesive Stockholm and a Democratically Sustainable Stockholm" happened this autumn. In order to develop even more ideas, a hackathon has been held for each competition.
The Hackathon
So I participated in the hackathon corresponding to the second theme, "A Cohesive Stockholm and a Democratically Sustainable Stockholm". To narrow down the reflection, the hack proposed two problems: "How can we use Stockholm´s open data to increase inclusion and interaction between people of different generations?" and "How can we use Stockholm's open data in public spaces to create a more open city?"
The event started with a breakfast during which we could meet and mingle with the other participants. I was quite impressed already by chatting with people by how diverse the participants were. There were a few tech people, a lot of designers, and some artists, there were several students of course but also professionals or just curious citizens there were born and raised Stockholmers as well as foreigners that just arrived in the city (like me!). Now that I am writing this paper, I realize that this is probably the expected outcome of the selection process that happened prior to the event. Indeed, we had to subscribe to the event by answering some questions and presenting ourselves. The selection was then made according to the different profiles.
We subscribed as a team (of 5 members) with mostly other EIT people, but it was also possible to subscribe individually. In the latter case, teams were made according to the profiles of the participants. Since one person of our team couldn't come, the hack crew attributed us another participant: it was an experienced designer in his thirties.
After the breakfast, we assisted a presentation by the CDO of the city of Stockholm that introduced us to Stockholm's 2040 Vision and the future ambitions of the city. We also had a presentation by the Openlab team which explained us the schedule of the day and the ideation methods that were going to be used. It was mostly about the design thinking methods. Then, the ideation session started: we spent the morning doing some guided workshops in several steps where we wrote down on post-it's the different stakeholders affected by the problem, and the places. There was also a workshop where we had to write down different problems related to sustainable democracy and inclusion but over different "time scales". For example, we had to propose a current problem which solution could be developed in the near future (1-2 years) and we had to imagine bigger societal problems or propositions that could happen or be solved on the long term (10-20 years). For example, I remember writing down a long term proposition about a regulation allowing and encouraging active people to follow one university course every year aside from their job. The ideation session was very broad at first, but then we narrowed down and picked up the most interesting ideas that came out before lunch.
The ideation session
After lunch, we reflected again on the chosen ideas to explore different solutions, and then picked up the best as well. What I realized is that ideas mostly come from personal experience, and having teams as diverse as possible is definitely an asset for such ideation sessions. It provides not only a broad set of different skills, but mostly a variety of experiences, occupations and interests from each member. So we ended up with the following problem that had been experienced by two of our team members: getting an appointment to a doctor in Sweden is sometimes long. We need to go to a Vårdcentral to be checked and if it is no emergency, the appointment to the doctor can be given in several days. Sometimes, the disease can even heal in the meantime!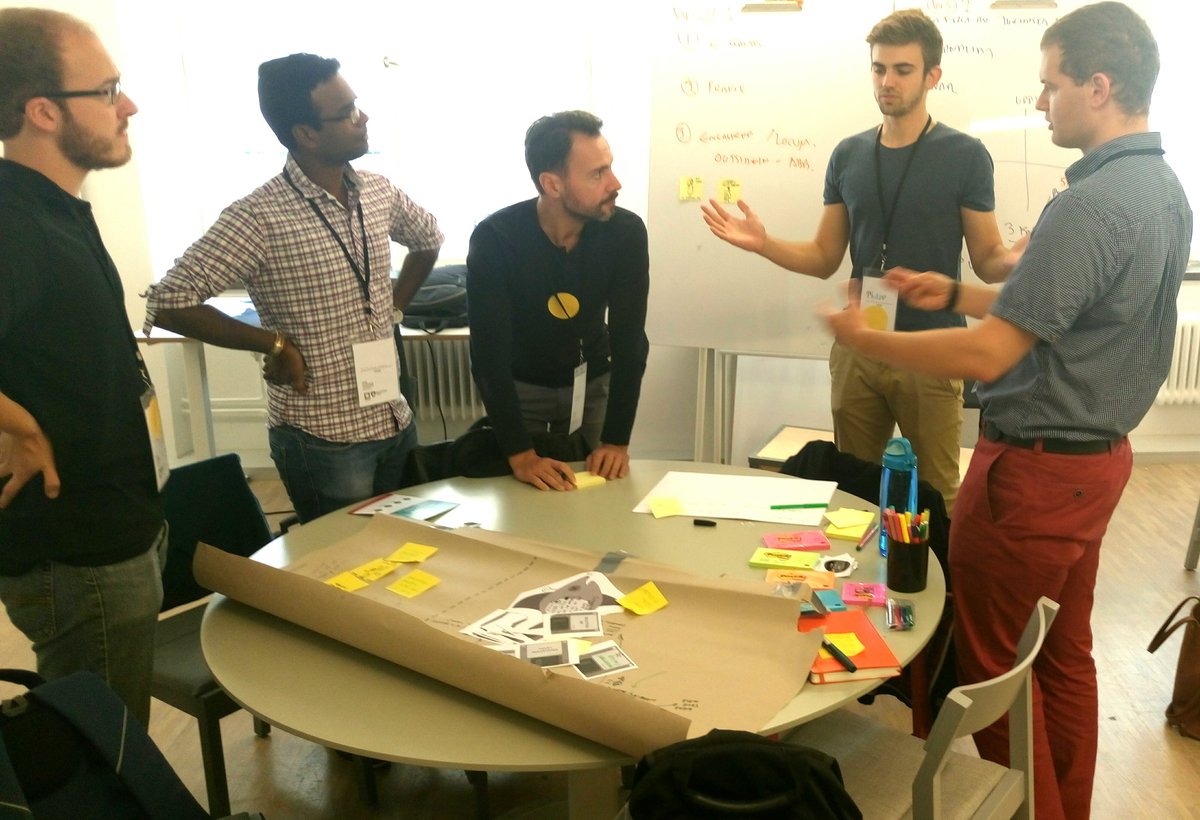 My group (I'm on the left) developping our idea
We proposed the following concept: a web service available as an application allowing patients to exchange appointments to the doctor. Here is a use case: let's say we're Monday and Alice went to a Vårdcentral and got an appointment on Wednesday. Bob is a senior and has his weekly appointment on Monday at 4 PM. But he would like to pick up his grandson at school, so he proposes an exchange of his timeslot. Alice sees the proposition and exchanges the appointment with Bob, and everyone is happy! Our service would use the open data from the city of Stockholm that provides the place of every Vårdcentral to present the available appointments on a map. This example showed a use case where people from different generations could help each other, which was in the spirit of the hack's guidelines.
We worked on a mockup of the application and presented a video showing such a use case. At the end, a vote was held to designate a winning team. We didn't win, but it was a very pleasant experience. I've learned some ideation techniques and I kept contact with a very enthusiastic designer!
Liked it? Why not to share then?